We make no bones about it, when Derry Londonderry decides to throw a party, they do it frighteningly well and Derry Halloween is no exception.
With its historic walls, the city is the perfect setting to celebrate the ancient Celtic festival of Samhain (pronounced 'Sau wen' in the city) and there is so much to see and do as the whole city seems to get involved  with activities officially kicking off on Saturday 26 October and finishing with a grand final finalé of a parade, a 100-drone done show and fireworks display on Halloween itself, Tuesday 31 October. It's no wonder Derry Halloween boasts that it is the largest Halloween Festival in Europe!
Derry Halloween Highlights for 2023
Daily events – Saturday 28 – Monday 30 October
The City of Bones, within the city walls, 6-9pm, free | 'Awakening the Walled City' Trail. Suitable for all ages. Fire performance, aerial displays, live music and illuminations.
Through the Veil, The Diamond, 6-9pm, Free | An aerial display performed by creatures of the night!
The Festival of Bones, Society St Car Park, 6-9pm, Free | Join the 'King of Bones' Halloween procession headed by the sinister skeletal frame of Walter DeBurgh, which will weave its way through the darkened streets.
Spark!, The Diamond to Butcher St, 6:30pm, 7:30pm & 8:30pm, free  | The glow-in-the dark drummers will be blazing a trail along Shipquay Street this year, so keep an eye out for their dazzling displays.
Heart of Samhain, Guildhall Square & Waterloo Place, 12noon – 9pm, free | Halloween market with sights, sounds and tastes to enjoy including activities for children such as puppet making.
Halloween – Tuesday 31 October
The Carnival Parade –  Embankment, Queen's Quay, Strand Road, 7:00pm, free | Schools, performing arts groups, community organisations and sports clubs come together for a vibrant and colourful parade.
The City of Drones & Firework Displays – View from Queen's Quay (riverfront), 8:15pm onwards | Northern Ireland's first drone show with a swarm of 100 drones taking to the sky for a thrilling aerial display followed by the breathtaking annual fireworks display.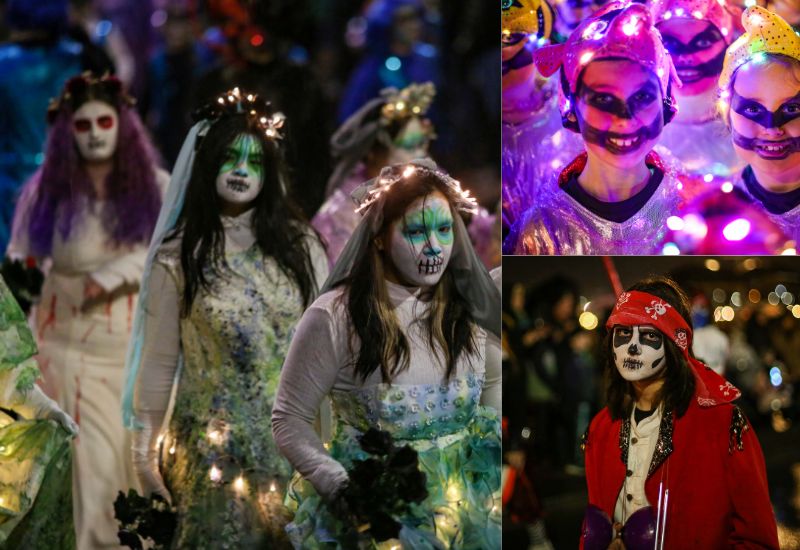 Other activities and events
For children – a selection
See the Derry Halloween website for a full programme.
Trick or Treat Kids' Halloween Disco – Guildhall, Tuesday 31 October, 4:00-6:00pm | In aid of the Mayor's charities, Foyle Hospice and the Ryan Mcbride foundation. Donations welcome.
Roar Roar Dinosaur – Guildhall Main Hall, Saturday 28 t– Monday 30 October – 11 am (quiet session), 12:30 pm, 2 pm, 3:30pm and 5pm, £3 plus book booking fee | Dinosaur-related fun for kids.
Spectacular Awakenings – Guildhall Square, Saturday 28– Tuesday 31 October, 3:00 pm -8:00pm, free | Animation and Ark activities with games dress up and puppet making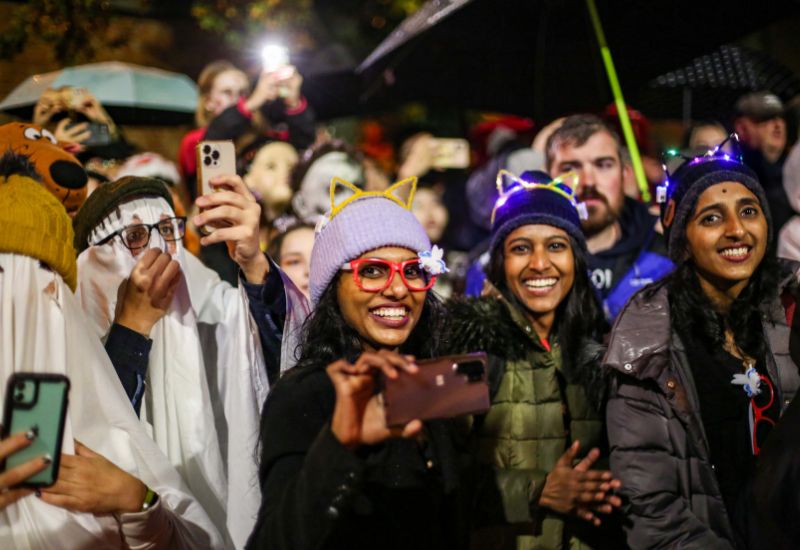 Tours, shows and other events
Tickets and more information about these events can be found on the Derry Halloween website unless stated otherwise.
Candlelight Orchestra – St Columb's Cathedral, 28 Oct, 6:30pm & 9:00pm, £15-£35 – Buy tickets on Derry Halloween website. A programme of horror-themed tunes.
House of Horrors – Old Tourist Information Building, Tuesday 24 – Monday 20 October, 6:30pm-10:30pm, cost £5pp | Test your bravery at Derry's scariest haunted house.
Spooky Tour of the Derry Walls – Derry City Walls, Thursday 27-Tuesday 31 October, late afternoon /early evening, £5pp inc hot drink. 45-minute family-friendly ghostly goings on. Lead by Martin McCrossan City Tours.
The Experiment – Echo Echo Dance Theatre Company, Wednesday 27-Monday 30 October, 6:00-10:00pm,  £8pp | 15 minutes of terror in 'the experiment' with live actors, sound and lighting effects for audiences of up to 24 people at a time.
Seantradisiún na Samhna – Cultúrlann Uí Chanáin, Monday 30 October, 2:30-4:00pm / 6:00-7:30pm, £5pp | A hands-on workshop exploring the true origins of Samhain, and how our Celtic nuances have made their way across the world. Bilingual. Tickets from the Cultúrlann website.
Zombie Apocalypse – Lock 'n' Load, Thursday 26 – Monday 30 October, £12pp.  A laser tag battle to escape the zombies.
1st Global Zombie Academic Symposium – Ulster University, Magee Campus. Learn more.
Visit the event website or download the PDF of the programme for full details of the close-to-50 workshops, tours, shows and activities – and if you do venture out to 'The City Of Bones' on Halloween weekend, be sure to go in disguise…
Accommodation & getting there
You will be very lucky to find accommodation in Derry~Londonderry for the period of the Halloween festival 2023 but if you are planning on coming in 2024, book your accommodation now!*
However, Translink are putting on additional services and increasing capacity so visitors can travel to the city to enjoy the festival and especially the Parade, Drone Show & Fireworks display on Halloween night itself which should be over . There will also be the usual free bus service between the city bus station and the train station across the river. There are also regular busses to destinations such as Belfast (about 2 hours) and Dublin. Visit the Translink website for more information.
---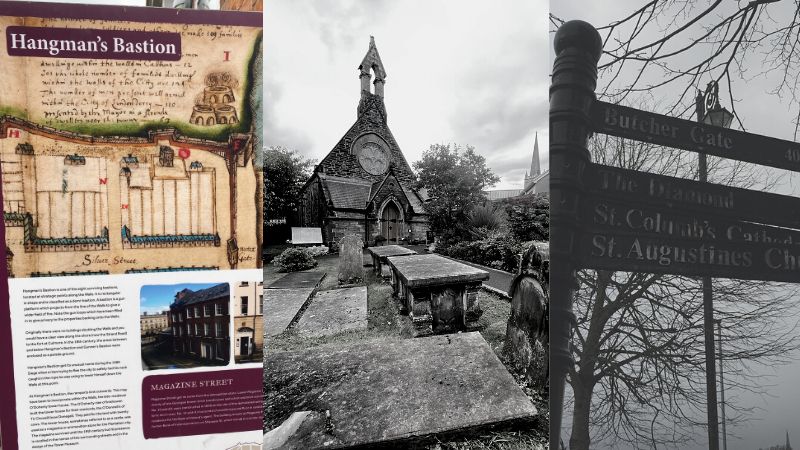 Derry Halloween's Celtic Origins
To learn a bit more about Halloween tradition and in particular Derry Halloween we were lucky enough to catch a chat with Mary Delargy who runs classes at Derry's Cultúrlann Uí Chanáin, including an introduction to old Celtic customs of Samhain, upon which many of our Halloween customs are based.
Samhain – the Celtic new year
Halloween has its roots in Samhain, one of the eight ancient Celtic festivals celebrated in Celtic lands which include Ireland, Scotland, the Isle of Man, Wales, Cornwall and parts of Brittany. Samhain marks the end of the harvest and the start of the dark winter half of the year, a transition that was also considered the start of a new year.
Connecting with the spirit world
The spooky Halloween element comes in because, as a time of transition, "it was also believed that the 'veil' that separates us from the 'other world' was at its thinnest," Mary explains. "People believed that at this time they might connect with and welcome home friendly family spirits, which they did with food and fires." At the same time the Celts would ward off harmful spirits by wearing masks and costumes to disguise themselves – and with trickery!
"People believed that at this time they might connect with and welcome home friendly family spirits, which they did with food and fires."
Mary believes that it is only human to hope that the ones we have loved and lost are not so far away, "that we want to be able to be in contact with them in some way, and that they can see what is happening in our lives now." It's not surprising then that this tradition remained popular and carried on through the generations into Christian times when, in an effort to ease the transition to Christianity for pagan Celts, the church adopted the festival to become a day of remembrance for Saints (All Saints' Day – 1st November) and a day of remembrance for other souls, All Souls Day (2nd November). Later on this festival became known as Allhallowtide (hallow meaning holy, tide meaning season) and then of course Hallowe'en is the evening of Hallowtide, the night we still mark the Celtic traditions of disguises and trickery to fool those unwelcome spirits!
Derry x Halloween – the perfect pairing
Today Derry Halloween is a huge pageant with a parade, fireworks, music, performances, fancy dress and 90,000 visitors – but it was not always this way. Growing up in the city Mary says that the focus was more on All Saint and All Souls Day, "On Halloween there would be no dressing up or going around houses 'Trick or Treating' and we certainly couldn't go up on the walls because the area was closed off for use by the military. We would perhaps make a Halloween mask, which we would call a False Face, carve a turnip lantern, and we'd bob for apples."
However, in 1986 Derry City Council introduced a small stage in Guildhall Square with some live music and this small event was to grow from strength to strength. European immigrants in the US may have taken this festival with them, making it bigger and louder, but Derry Londonderry has not been shy in bringing some of that fun  back to its natural home. As Mary says, "With its dark towering walls, the eerie cemeteries alongside the walls and ominous Hangman's Bastion, Derry provides the perfect atmosphere for a Halloween festival. It's no surprise that Derry Halloween is the largest Halloween festival in Europe."
---
About Cultúrlann Uí Chanáin:
Alongside a year-round programme of arts activity and performances, the organization has delivered several large-scale projects including the Festival IMBOLC, the traditional Irish music school Acadamh Cheoil, and the youth club Club Óige Setanta. The Cultúrlann also offers a programme of Halloween events so be sure to check their website. Learn more.
* Affiliate link.