Why visit Portrush?
Portrush is a sister seaside town to Portstewart, together knows as 'the Ports', located on the Causeway Coastal Route on Ulster's northern coast. Portrush has three fabulous three sandy beaches – the West Strand, East Strand and White Rocks – and is a destination for surfing and other watersports as well as events such as motorsports' North West 200 (usually held in May) and golf's Open Championship, which was hosted at the Royal Portrush golf course in 2019 and it will be once more in 2025. Another famous Portrush landmark is the seafront amusement park Curry's (formerly Barry's), which has been the holiday highlight for several generations of Northern Irish children.
The town straddles Ramore Head between the East and West Strands and boasts a picturesque harbour overlooked by several popular restaurants and bars. Around the town you will find other cafes and restaurants as well as surf shops, The White House department store and other boutiques.
Together with Portstewart, Ballycastle and Bushmills, Portrush is a great place to stay when visiting the North Coast as all the major attractions such as Giant's Causeway, Dunluce Castle, Carrick-a-Rede Rope Bridge, and Derry-Londonderry are all within easy reach.
…all the major attractions such as Giant's Causeway, Dunluce Castle, Carrick-a-Rede Rope Bridge, Mussenden Temple and Derry-Londonderry are all within easy reach.
---
Things to do in Portrush
Eat & Drink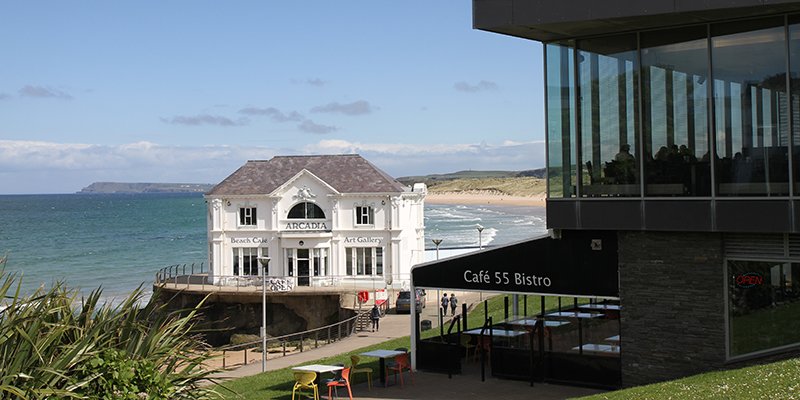 The Ramore Restaurant Group have pretty much got you covered around the harbour area with seven restaurants and bars for you to choose from. Their success has come from doing things well so you can confidently work your way through the seven, from the more traditional Harbour Bar right on the harbour front, through the family-friendly Coast, to the Neptune & Prawn, serving Asian-inspired dishes! Visit their website to learn more and make bookings which are always a good idea as Portrush gets booked out. Learn more – Ramore Restaurants
A firm favourite for us is Shanty, a licensed restuarant right by the sea on Ramore Head, occupying an old lifeboat house. You can read a review of Shanty here.
Award-winning Kraken Fish & Chips is also on Ramore head, with seaviews and hearty mostly gluten-free fare such as burgers and tacos as well as fish and chips. It is licensed so you can also enjoy a beer or cocktail with your meal. Most seats are outdoors but there are a number of tables set up in small kiosks which are popular.
You can't miss The Arcadia if you walk around to the East Strand as it seems to stand on its own promontory over the beach. It has a long history which you can read about here, but it now serves as a breakfast and brunch café as well as an art gallery with occasional yoga and taichi classes. Families with young children will appreciate the enclosed playground outside. Learn more – The Arcadia
Overlooking The Arcadia and the East Strand is 55 North, a restaurant, bistro and cocktail bar serving breakfasts, lunch and dinner. There is also a chic apartment to rent on the top floor, with balcony and stunning sea views. Learn more – 55 North
---
Be Amused at Curry's (formerly Barry's) Amusements 
A child's dream, Barry's was perhaps Northern Ireland's best known day out. It was established in 1926 by the Trufelli family and comprised an indoor and outdoor area featuring all the rides you would expect at a fairground, from the dodgems to a stomach churning 'The Cyclone'. Much to the public's dismay, the Trufellis closed the business in 2019 but it has since been purchased by Curry's, a Galway-based amusement park, and opened to mass crowds over Easter 2022.  Read more – Curry's Amusements
---
Play golf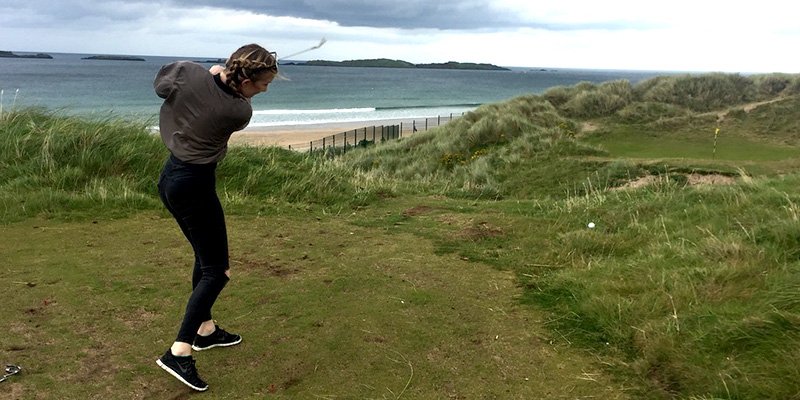 If you play golf at a higher tee and are armed with your handicap certificate and membership of a recognised golf club elsewhere, you could arrange a round of golf at the Royal Portrush, home to the 2019 and upcoming 2025 Golf Open.
If your game is more casual there are still options at the 9-hole Rathmore Golf Club (Bushmills Road, BT56 8JG) which sits right besides Royal Portrush and overlooks the ocean. You can just show up and hire clubs and balls from the small kiosk you see at the far end of the carpark.
For crazy golfers, we have a place for you too! Located right besides Curry's Amusements on the West Strand (Castle Erin Rd, Portrush BT56 8DH), you'll find Finn's Escape Adventure Golf.
You may also notice the local council owned Ballyreagh Golf Course (Glen Road, BT56 8LX – Tel 028 70 822996) on the seafront between Portrush and Portstewart. This is open to the public but you need to prebook and bring your own clubs.
---
Get a board – Surfing, paddleboard, bodyboarding ++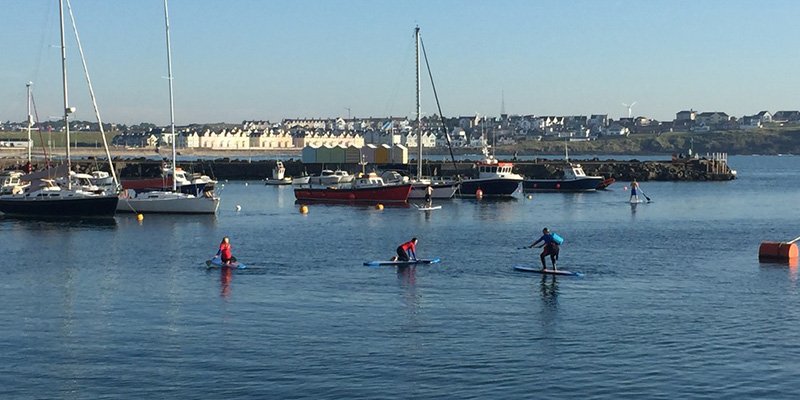 Surfing is the big thing in Portrush, especially for beginners and 'groms' (a young surfer). For the more experienced surfer, April is the best time with 'consistent clean waves', according to Surf Forecast.
In recent years, paddleboard (SUP) has also become more popular and the calm of the harbour provides an excellent place to learn when the sea is better suited for surfers!
Troggs Surf School – East Strand Watersports Centre / Shop – 88 Main St, Antrim Gardens BT56 8BN. Trogg's offers surfing lessons as well as paddleboard sessions and experiences, such as the Sunset Surf Experience. Surfing lessons are charged at £35 per head for a 2-hour lesson in a group of 4+. There are also options for private groups and one-to-one sessions.  Learn more – Troggs Surf School
Alive Surf School & Adventures –  West Strand Car Park  BT56 8FQ. Alive Adventures offers group, private group and one-to-one lessons for surfing, charged at £35 per head for a 2-hour open group lesson. They also offer supervised body boarding, guided river kayak and paddleboard sessions (including tuition) and if you want to go it alone, they also offer equipment hire. All hire customers also get to use their changing rooms and hot showers as well. Although not a watersport (so technically shouldn't be in this section), Alive Adventures offers e-bike hire for adults who want to go exploring the coast on dry land. Learn more – Alive Adventures
Portrush Surf School – Portrush Yacht Club, Harbour Road, BT56 8DF. Similarly to the schools mentioned previously, Portrush Surf School offers group, private group and one-to-one lessons for surfing, body boarding and paddleboarding. However, the cost for the group surf lesson is £42.50 per person, advertised as 2 hours on the water, with extra time for off-the-water changing and showering. If you are a keen surfer, you could also consider their Irish Surf Trip tours, to discover uncrowded surf breaks, heritage, craic and Guinness! Learn more – Portrush Surf School
Get Aboard – Fishing, Sightseeing and Experiences
Causeway Boats  – Causeway Boats offers daily fishing and deep-sea fishing trips where rods, tackle, and bait are provided, and tuition if needed. Causeway Boats also offers tours including a River Bann Tour, the 'Our Living Coast' boat trip and the 'Summer Bird Watching & Rathlin Puffins' trip. If you are an early bird and fancy catching your own fish for breakfast,  check out the Sunrise 'Catch your Breakfast' food tour. Learn more – Causeway Boats
Lady Karen –  Skipper Paul has had 30+ years' experience of the fishing grounds around Portrush and offers angling trips to both novices and experienced anglers. Choose from a 3-hour mackerel fishing trip or a longer 6-hour fishing trip. Paul also offers sightseeing trips along the coast. Learn more – Lady Karen
(prices correct – May 2022)
---
Popular Calendar Events
---
Also on Northern Ireland Holidays:
---
Accommodation
Note that if you make a booking on Booking.com from our site, we may earn a small commission at no additional expense to yourself. This helps support our work. Thank you