I would confidently say the Shanty Restaurant in Portrush is one of the best restaurants in Northern Ireland, scoring highly for both its unique location and its menu.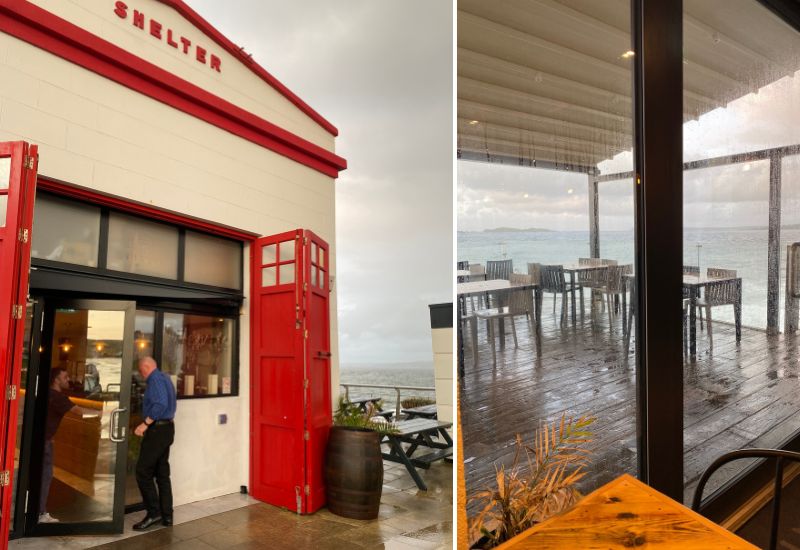 History and location
Shanty is located in a century-old lifeboat house situated on a rocky outcrop over the sea on Ramore head in Portrush. Shanty initially opened in 2021 serving coffees, brunches and light bites and after a busy first season, it closed its doors for major renovations before reopening in 2022 as a fully licensed restaurant serving breakfast, lunch and dinner.
We went along one stormy evening toward the end of July for dinner, glad to step into the cosy interior out of the rain and wind, but yet still being able to watch the waves crashing on the shore just metres from where we sat. In better weather we would have sat outside on the restaurant's terrace that hangs over the sea. But not that evening!
While not huge, the menu is a fresh and welcome change from the usual goujon fare.
While not huge, the menu is a fresh and welcome change from the usual goujon fare. As you would expect, there are seafood options and the steak lover will not be disappointed as there is a separate grill menu offering a range of steaks. The standout on the menu for us was the use of international flavours to create some very appealing dishes.
The meal

For starters we chose 'Lemon & Pepper Squid' (£9) which was served with chorizo, rocket and a saffron aioli, and 'Padron Peppers' which came with a paprika crumb and roasted pepper dip (£6.50). These were shared, and as delicious as they sound.
For main course we both chose the Chimichurri Chicken – clearly it was a chicken kind of night. The chicken was served with little chips of chorizo, spinach, baby potatoes and parmesan (£17). The chicken was succulent and all the flavours together were fabulous! Other close runner up options would have been the 'Lemon & Coriander Marinated Monkfish' which came with lobster rice and fresh herb salad (£24), or the 'Kilkeel Coley' which came with patatas bravas, n'Duja, red pepper puree, padron pepper and bonito flakes (£17). Next time.
Even though we were stuffed after these two courses, we were tempted by the dessert menu, choosing a ridiculously indulgent marriage of drunken raisins, meringue and banana fritter for one dessert, and a berry panacotta for the other. We really shouldn't have but who could resist?

The staff were great, the prices and portions very reasonable and the environment was 'modern functional' with fantastic views. Next time we are on the North Coast we will definitely be going back to try other dishes on the menu. As the restaurant is not large we'll be sure to book, as you should too!
Booking and location
Shanty
Old Lifeboat Shelter, Portrush, BT56 8AY
Free parking outside and close to the restaurant.
You can book on the website:: shantyportrush.com
Tel: 07594 432 677
---
Also on Northern Ireland Holidays:
---
Accommodation
Note that if you make a booking on Booking.com from our site, we may earn a small commission at no additional expense to yourself. This helps support our work. Thank you