In this article:
Travelling to Northern Ireland:
---
By Air
We have two airports, George Best/City Airport, and Belfast International / Aldergrove. Despite the 'international' there are few international flights coming into the region. Belfast International (also known as Aldergrove) usually caters for the Northern Irish holidaymaker flying to destinations in the Mediterranean and Europe as well as to mainland UK.
Most international tourists in fact arrive at Dublin or Shannon Airports in the Republic of Ireland, or at an international airport in England, where visitors either drive up from the Republic or take a short domestic flight from England, landing at either Belfast International, or George Best/City Airport.
Domestic visitors traveling from other parts of the UK will find that they can catch quite attractively priced flights to either Belfast International, or George Best/Belfast City Airport.
Belfast International Airport (IATA: BFS, ICAO: EGAA) is about 21 km / 13 miles out of Belfast city centre. For Belfast City residents this might be a problem, but for visitors planning to head up to the Causeway Coast to visit sites such as Giant's Causeway, this is not really an issue as it puts you that bit closer. In fact, given Northern Ireland's small size, Belfast International Airport's location is probably not an issue for anyone renting a car and wanting to head East, West, North or South. In addition, car rental prices are often cheaper when picked up at Belfast International.
Getting to/from the airport:  For those without a car, there is a regular express bus service that takes you in to Belfast in about 25 minutes. Sit upstairs and enjoy the views of our beautiful green countryside. There are also bus services to Lisburn and Derry Londonderry. Check out transport operator Translink's website or the helpful 'to & from' page on the airport's website.
George Best (IATA: BHD, ICAO: EGAC) is primarily a domestic airport servicing other cities in the UK, but there are occasional flights to/from Amsterdam and seasonal flights to international holiday destinations. The airport is located just 3 miles / 5 km from Belfast's city centre and sits alongside Belfast Lough.
Getting to/from the airport: Public transportation is not great. There is an express bus service that runs every half hour, but most visitors will either take a taxi, or hire a car. While Sydenham train station is described as being just a 'short distance' from the airport, you would need to drag your suitcases for about 15-20 minutes along a path that runs adjacent to a dual carriageway before dragging them over a footbridge before arriving at the train station. Our recommendation: budget for the taxi, or hire a car.
Who was George Best?
If you are a football fan you may have heard of George Best. If not and if you are planning to visit Northern Ireland you do need to know that George Best was a Northern Irish professional footballer who played for Manchester United in the 60s and 70s, and is regarded as one of the best players in the history of the sport. Even the great Pelé recognized his exceptional skill. He is of course a local hero and so we have an airport named after him.
---
By land
Driving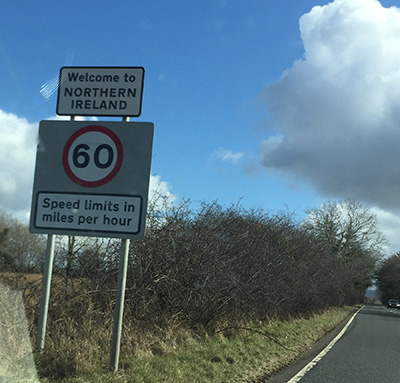 As previously mentioned, many international tourists (or even residents) use either Dublin Airport (in our opinion the airport with the absolute best airport Twitter account) or Shannon Airport in the west, and drive north. The border between the Republic of Ireland (ROI) and Northern Ireland (NI) is open, and it is likely to stay that way. If you are authorised to cross it you can just simply drive across. See the information below to see whether you will need a visa to enter either ROI or NI.
Note: The drive across the border is usually invisible however, you should note that the standard unit of measurement in the ROI is kilometers, and in NI it is miles. Check your speed and be mindful that speed warnings will be in either kilometers or miles depending where you are!
Useful links:
If you are worried about driving on the 'wrong' side of the road just remember that the driver should always be in the middle of the road. If the road is so narrow that this doesn't work… then you have other problems to worry about!
Car Rental
For car rental, we like Discovercars.com* which searches a wide range of companies and brings up competitive pricing. It is also rated highly at 4.6 our of 5 on TrustPilot (with 100k+ reviews). You can hire cars in the Republic as well as in Northern Ireland and travel the whole island.
Be sure to let the company know that you plan to cross borders so that you are covered with the correct insurance. When you search and click on a chosen car you can see an estimate of the additional cost under the 'Planning to travel to another country? tab.
* Because we want to recommend Booking.com and DiscoverCars.com, we have arranged to be 'affiliates' for both companies where we get a small commission, at no expense to yourself,  if you book after clicking a link off our website or this page. This revenue supports the work we do so we thank you for your support!

By bus
There are good bus services from Dublin Airport and the city of Dublin to Belfast and Derry Londonderry.
Translink, Northern Ireland's public transport operator, offers a bus service between Belfast / Derry Londonderry and Dublin / Dublin Airport for around £18 return if you book early to catch a web saver fare. There are stops en route so the journey takes around 2 hours 15 minutes (Dublin Airport to Belfast) and just under four hours Dublin to Derry Londonderry. There is a reduced service through the early hours of the morning if you have an early flight..
Aircoach – Aircoach serves quite a few towns in the Republic, but also travels from Dublin city/airport to Belfast City (Glengall Street), Belfast International Airport, and Derry Londonderry. A non-stop journey from Dublin Airport T1 and T2 to Belfast journey takes around 1 hour 50 minutes. Return tickets are £19-£21 depending on the time of day. Tickets can be bought online
By train
The train journey between Dublin Connolly and Belfast Lanyon Place takes just over two hours. If your journey originates in the Republic, use Irish Rail's website to book tickets, and if your journey originates in Northern Ireland then you should use Translink's website.
You can also buy tickets at the station but you will get the best savings by booking online. Return ticket prices originating from Dublin can be as low as €28 (approx) if you book early enough and snap up the saver seats, but otherwise you can expect to pay around €30 or €32 for semi flexible / flexible return tickets.

---
By sea
There are ferry services to Belfast from both Liverpool and Cairnryan in Scotland, and an additional service from Cairnryan to Larne. There is a ferry service from the Isle of Man, so if you are planning on attending the Isle of Man TT, why not visit us afterwards?
As with land and air passage, you can also take a ferry from the UK or Europe to the Republic of Ireland and drive north from the ROI.
Current ferry routes:
* Cairnryan, Scotland – Larne, NI (P&O Ferries)
* Cairnryan, Scotland – Belfast, NI (Stena Line)
* Liverpool, England – Belfast, NI (Stena Line)
* Liverpool, England – Dublin, Republic of Ireland (P&O Ferries)
* Douglas, Isle of Man – Belfast (isle of Man Steam Packet Ferries)
* Pembroke, Wales – Rosslare, Republic of Ireland (Irish Ferries)
* Fishguard, Wales – Rosslare, Republic of Ireland (Stena Line)
* Holyhead, Wales – Dublin, Republic of Ireland (Irish Ferries / Stena Line)
* Cherbourg, France – Dublin, Republic of Ireland (Irish Ferries)
* Cherbourg, France – Rosslare, Republic of Ireland (Brittany Ferries / Stena Line)
* Roscoff, France – Cork, Republic of Ireland (Brittany Ferries)
* Roscoff, France – Rosslare, Republic of Ireland (Brittany Ferries)
* Bilbao, Spain – Rosslare, Republic of Ireland (Brittany Ferries)
Check prices here: https://www.directferries.co.uk/

---
Visa requirements for Northern Ireland and the Republic of Ireland
Although Northern Ireland is firmly located – as the name suggests – in the northern part of the island of Ireland, it is part of the United Kingdom. This means that if you have a UK passport, come on in. Similarly, if you have an Irish passport there is no border.
Other travellers need to check whether you need a visa to enter the United Kingdom. If you are coming in via the Republic of Ireland (part of the EU) you would need to check the visa status for The Republic as well. See some helpful links below.
Visiting the Republic of Ireland (ROI)
You do not need a visa to land in Ireland if you:
Visiting Northern Ireland / UK
Use this useful visa checker to see the whether you require a visa to visit the UK.
Useful links: